As of today, the governor's lifting of certain restrictions
focuses on outdoor recreation, and most Pierce County cities have followed suit. The good news is that city and county trails are wide open (with a big caveat, below), so we have some recommendations on where you can go to get your fix of vitamin D in this gorgeous spring weather.
Before we get into the good stuff, let this be your mantra: go before you go.
This is so important that I'm dragging the footnote into the main blog post.
* Do yourself a huge favor and assume (unless you read otherwise from an official source) that restrooms, recreation facilities, sports courts, restrooms, playgrounds, skate parks, restrooms, picnic tables/shelters, parking lots, and in many cases, restrooms, are still closed. So really, go before you go.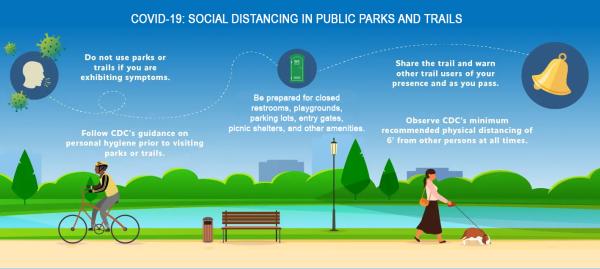 That said, still go! Get outside. Keep your distance. You'll still need to keep six feet of space around you, but you'll gain 30,000 feet above you.
Here's how it all breaks down:

DuPont
Parks status: Open*
Preferred trail:
Sequalitchew Trail
(three-mile roundtrip, historic trail with an abandoned train tunnel and beach at the end)
Fife
Parks status: Open*
Gig Harbor
Trails status: Open
Preferred trail:
Cushman Trail
(6.2-mile one-way, paved, out-and-back trail featuring challenging hills and verdant views)
Lakewood
Trails status: Open
Milton
Parks status: Open*
Trails status: Open
Preferred trail:
Milton Interurban Trail
 (1.7-mile one-way, out and back trail along the edge of a ravine with views of Hylebos Creek)
Puyallup
Parks status: Closed
Trails status: Open
Sumner
Parks status: Open*
Preferred trail:
Sumner Link Trail
(5.3-mile one-way, out-and-back valley trail along the White River featuring wildlife and unique vegetation)
Tacoma (Metro Parks Tacoma)
Parks status: Open*
Preferred trail:
Point Defiance Park's Five-Mile Drive
(Five-mile paved loop road with several dirt trails running parallel, old growth forest, and wildlife that you should definitely not feed)
University Place
Trails status: Open
Pierce County Parks
Trails status: Open