The relationship between hotels and Airbnb is a complicated one, to say the least. In order to learn more about this evolving relationship from all angles, Travel Tacoma + Pierce County took part in a discussion group with Molly Turner, Airbnb's Global Head of Civic Partnerships, to learn how they view the connection between their business and the tourism communities in the cities they serve.  
In the conversation, Airbnb stressed that they do not feel they are competitors with hotels, and that many major hotel chains feel the same. In fact, quoting executives from Hilton, Marriott and Pebblebook Hotels, Airbnb said many major hotel chains feel Airbnb helps stimulate their market and raise their rates.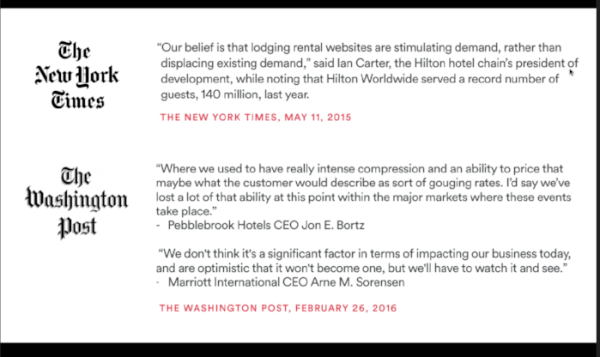 Addressing the most common issue of Airbnb hosts not paying lodging tax, the company claims they want their hosts to pay hotel tax, and the hosts want to pay it as well. The problem happens when lodging tax laws are outdated, making it hard for hosts to pay. Airbnb gave the example of a host filling out her taxes and being asked to include a lodging tax form that she can't fill out because the form is made for professional hotels only. Airbnb stressed it is important for the tourism community to lobby the government to get these laws changed so they and their hosts can pay their fair share.
In terms of helping destinations, Airbnb said their hosts become tourism ambassadors and community support and they help distribute tourism's economic impact to neighborhoods that normally wouldn't see it. For instance, in Tacoma, someone staying in an Airbnb might stay in Proctor when normally the options for visitors to stay in that neighborhood are limited. They would then spend more money in Proctor restaurants, stores, etc.
The company is also happy to partner with destinations on collateral creation, such as they did in San Francisco, where they created a neighborhood map that highlights great sites in each neighborhood of the city. By distributing this map to all the hosts in the city for them to pass along to guests, they're encouraging visitors to explore the entire area.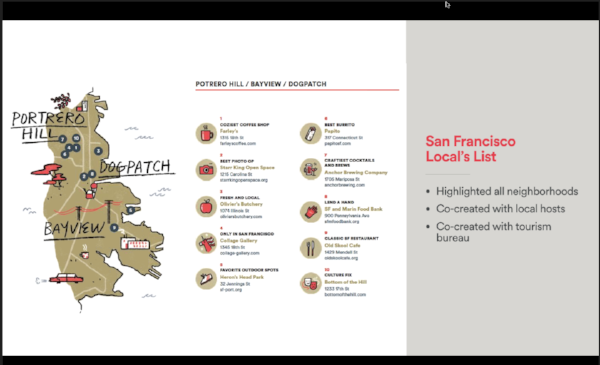 The relationship between the tourism community and Airbnb is still changing, and the effects of their business on hotels is still being measured, but in the meantime Airbnb recommended that people in the tourism industry reach out to them for more information at destinations@airbnb.com.