The crunch of snow under more than two dozen pairs of snowshoes is the only sound in an otherwise silent forest clearing. The relatively fresh snow muffled sounds and side conversations to the point they were inaudible to anyone outside of a few feet. Our ranger-guide takes a quick headcount to make sure nobody has lagged behind before leading the group over the next ridge and stopping. She knew exactly what she was doing when she picked a place where the group could fan out in a half circle, facing her and the crystal-clear view of snow-covered evergreen trees across a valley that expanded miles behind her.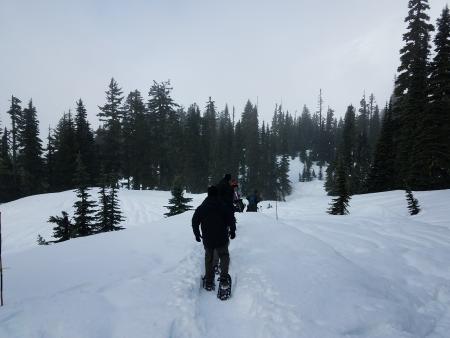 This is our fourth stop, and the one where she introduces us to the animals we could encounter at different elevations at Mount Rainier. She flips through printouts and mimics the calls of the marmots, elk and other mammals that we could be fortunate enough to see. In previous stops, with equally expansive views, we've learned about how climate change is affecting Mount Rainier, the wildflower blooms and conservation efforts at the Mountain.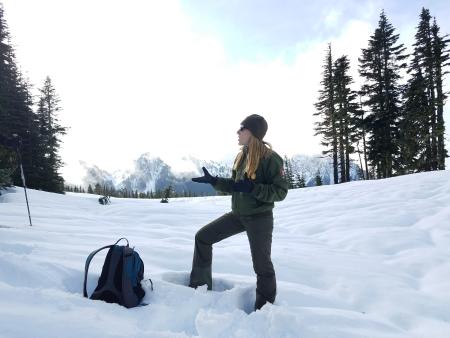 I looked around to the 24 others who were listening to our ranger guide describe the local fauna. We were the lucky ones who had arrived early at the Jackson Visitor Center at Paradise to get a place on the ranger-led snowshoe tour.
The tour started promptly at 11 a.m., but the staff at the visitor center started taking names at 10:00 to hold the limited number of spots available on each tour. Each two lasts two hours and traverses a little less than two miles. We were taken to a 3-D model of the mountain to orient ourselves. The "you-are-here" locator told us where we were, and our guide described that we were actually situated on the south side of a massive active volcano.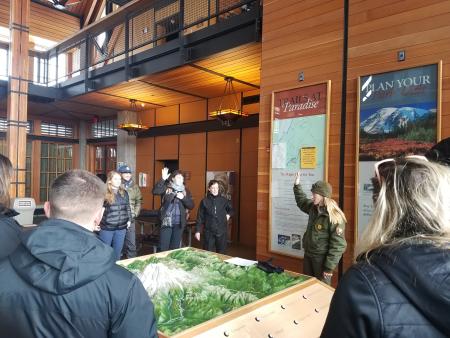 From there, we had to equip ourselves, which was a thankfully easy process. A few of us brought our own snowshoes, but it wasn't necessary since the National Parks Service has a room full of aluminum, plastic and even historical wood snowshoes for tour-takers to choose from. You could tell by looking who was going to showboat in the wooden shoes. To offset the cost of snowshoe maintenance, the NPS accepts any amount, but recommends $10 per participant.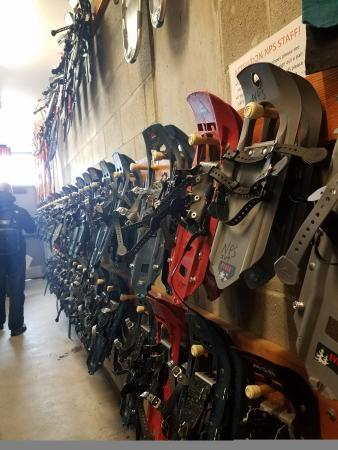 By 11:15, we were out the door and on the trail. For being as far up the side of the mountain as we were, the hike was almost perfectly flat, and even with a group ranging in age from eight (the minimum for the tour) to 70, nobody struggled. The well-positioned educational stops along the way provided opportunities for water, rest and pictures, so that the 25 of us kept moving when we were supposed to be moving. Occasionally, we came across more adventurous groups who were digging snow caves for winter camping, and twice we were invited to make our way down a steep decline using the "penguin method" (headfirst, on our stomachs).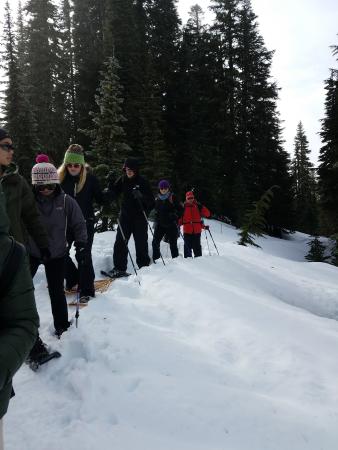 Despite a couple of impromptu snowball fights that ended in detente with some collateral damage, our group kept an enjoyable pace for the two hours and we all came away with a vastly expanded understanding of the mountain.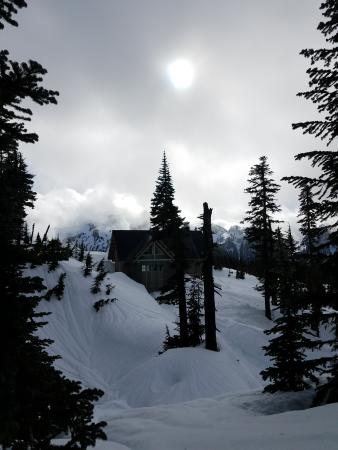 This is where we called it a day and headed home, but that's not necessarily the best way to experience Mount Rainier. Renting a cabin in one of the surrounding communities, or staying at the National Park Inn - open year-round and located at Longmire, inside the park - gives you an opportunity to be first in line for these snowshoe tours, and to explore the other regions of the mountain before and after. 

Mount Rainier Ranger-Led Snowshoe Tours Details and Tips:
Where: The Jackson Visitor Center at Paradise in Mount Rainier National Park
When: February - March; Weekends and holidays (always check NPS website first); 11 a.m. and 1:30 p.m. (sign-up begins an hour prior to departure)
Group maximum: 25, on a first-come, first-served basis
Age minimum: 8
Gear required: Cold-weather clothing, sunscreen and sunglasses (trust me on this) and food/beverages for you and your family. A cafeteria is available at the Jackson Visitor Center. 
Roads: All vehicles must bring chains to Mount Rainier National Park in the winter. Weather and road conditions dictate whether chains are required on any given vehicle on any given day.