Are you looking for something to do with dad, stepfather, or grandpa this Father's Day weekend?
There are a ton of events happening around Tacoma and the South Puget Sound, here are my top 10 picks for things to do with the father figure in your life. For more weekend inspiration, check out
our online events calendar
, where you'll find gardening workshops, live music, and more. If you're a local organization and have an upcoming event, submit it to the calendar!
​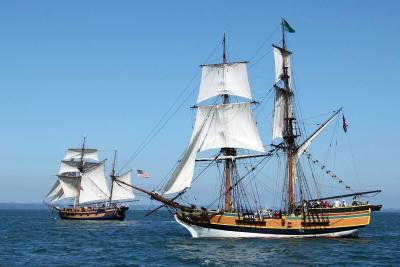 Festival of Sail Tacoma

Thursday, June 15th - Sunday, June 18th

Thea Foss Waterway, Tacoma

Times:  Thursday 11:00 AM - 7:00 PM; Friday 9:00 AM - 5:00 PM; Saturday 9:00 AM - 5:00 PM; Sunday 9:00 AM - 5:00 PM

Cost: Single-Day Festival Only Pass $9; Single-Day On Board Tour Pass $12; Multi-Day On Board Tour Pass $20; Day Sail $95; Fast Pass $60; Parade of Sail Day Sail $150 

The tall ships return to Tacoma... and this time the world's largest rubber duck is in tow. Step on board historic tall ships (think Pirates of the Caribbean style), snap a selfie with Mama Duck, explore the Foss Waterway Seaport with your family, and enjoy all of the maritime festivities happening down on Dock Street this weekend.

Gridiron Glory: The Best of Pro Football Hall of Fame
Friday, June 16th - Sunday, June 18th
Washington State History Museum, Tacoma
Time: 10:00 AM - 5:00 PM
Cost: $12 Adults, $8 Seniors/Students/Military, Free for Children aged 5 years and under

Do you have a football fan in the family? Don't miss this exhibit about Pro Football's Hall of Fame. From the history of professional football to the science behind the sport, Gridiron Glory showcases football artifacts, rare photos, and one-of-a-kind documents center in displays dedicated to America's most popular sport. You can also compare the size of your bicep to a professional football player.



 Half-price Dad's Day at Point Defiance Zoo + Aquarium 
Sunday, June 18th
Point Defiance Zoo + Aquarium, Tacoma
Time:  9:30 AM - 6:00 PM
Cost:  Adults (ages 13-64) $17.95, Seniors (ages 65+) $16.95, Youths (ages 5-12) $13.95, Tots (3 & 4) $9.95, Children ages 2 and under FREE

Enjoy family time with an outing to the Point Defiance Zoo + Aquarium - and dad's get half-off admission! Polar bears, sharks, octopus, elephants, clouded leopards... discover new animals and spend time celebrating dad at the only combined zoo and aquarium in the northwest.



 Food Truck Feast
Saturday, June 17th
Sehmel Homestead Park, Gig Harbor
Time: 11:00 AM - 5:00 PM
Cost: Free

Local beverages, tasty food trucks, and live music. Bring dads, friends, and families to the park and sample food truck fare in a festive atmosphere. Bonuses: this is the only food truck event in the greater Gig Harbor area, AND it's free!



Father's Day Weekend BBQ at LeMay
Saturday, June 17th - Sunday, June 18th
LeMay - America's Car Museum, Tacoma
Time: 10:00 AM - 5:00 PM
Cost: $15 per adult, $13 per child

Ranging from collector vehicles to the sleekest supercars, America's Car Museum makes a fitting fathers day destination if the dad in your life is a revhead. Combined with a special BBQ catered by Pacific Grill, you'll be hard pressed to find a more scenic or delicious barbecue spot. 



5th Annual Go Skate Tacoma
Saturday, June 17th
Tollefson Plaza, Tacoma
Time: 9:00 AM - 5:00 PM
Cost: Free

A family-friendly, free, city-wide celebration of skateboarding! Dads and kiddos can bond in the learn to skate zone (helmets and boards provided), watch other skaters perform tricks, and enjoy time together at this day-long community event in downtown Tacoma.



Bring your Dad to Harbor History Museum Day
Sunday, June 18th
Harbor History Museum, Gig Harbor
Time: 12:00 PM - 5:00 PM
Cost: Free

Do your kids know the story of Galloping Gertie? Does Dad? Find out for free, at the Harbor History Museum this Sunday. Families will also get to enjoy hands-on exploration while learning about the South Puget Sound's maritime history.



Meeker Days Arts and Music Festival
Friday, June 16th - Sunday, June 18th
Pioneer Park and Pavilion, Puyallup
Times: Friday 12:00 PM - 9:00 PM, Saturday 10:00 AM - 9:00 PM, Sunday 10:00 AM - 5:00 PM
Cost: Free

Originally celebrated in 1939 as a small arts and crafts festival, this weekend long event has grown to become Pierce County's largest street festival, whose heart is in the Pioneer Park and Pavilion. Listen to live music and entertainment (including a kid-friendly stage), browse vendors, play on inflatable rides, and spend fathers day weekend in a festive atmosphere.



Father's Day Family Paddle
Sunday, June 18th
Nisqually River Delta, Pierce County
Time: 10:00 AM - 1:00 PM
Cost:  $40/person on Family Trips (Ages 7+)

Treat dad to a special paddle trip in the South Sound. The Nisqually River Delta is beautiful and complex, and allows families to relax while taking in the scenery. One of the best parts? No kayaking experience is necessary, and all equipment is provided, making this a fun and accessible Father's Day outing.



Swimjitsu in Fife
Saturday, June 17th
Fife Aquatics Center, Fife
Time: 9:00 AM - 6:15 PM
Cost: $25 per person online registration, $30 per person onsite registration

Has your child (or father?) ever dreamed of being a ninja? How about an aquatic ninja? Swimjitsu is a fun, challenging ninja-themed aquatic event, where each competitor will try to complete the ultimate aquatic obstacle course and gain the rank of Grand Master Swimja.