Travel Tacoma + Pierce County Sponsors conference to bring meeting planners and decision-makers to Pierce County
March 3-5, Tacoma will host Meeting Planners International (MPI)'s Cascadia Education Conference, bringing approximately 300 attendees to Tacoma + Pierce County.  The educational conference is for regional meeting planners who book small to large-scale events. This three-day event generates close to $219,000 in direct economic impact to the community, but beyond that, having more than 60 conference planners attend this event is the perfect opportunity to introduce decision-makers to our destination. Travel Tacoma partnered with the Greater Tacoma Convention Center, Aramark and Hotel Murano as sponsors of this conference, and Travel Tacoma will also host an off-site glass-blowing experience with planners to reinforce the studio glass culture here.  
Ad sales now open for Tacoma and Pierce County Visitor Guide
Travel Tacoma is working on our 2019 Visitor Guide – often the first publication to introduce visitors to our destination – and you can have your business called out alongside the travel articles. The guide is the official tourism publication for attractions in Tacoma, Mount Rainier and their surrounding cities, and 125,000 guides are distributed to visitors through hotel kiosks, convention attendee welcome bags, direct mail, local attractions, visitor information centers and major Seattle tourism hot spots. This is the best way to reach travelers who are actively planning trips into Pierce County and are looking for things to do and places to stay, eat, drink and shop.
The advertising deadline is March 22. For rates and availably, please contact Carol Cummins ccummins@sagacitymedia.com (206) 454-3058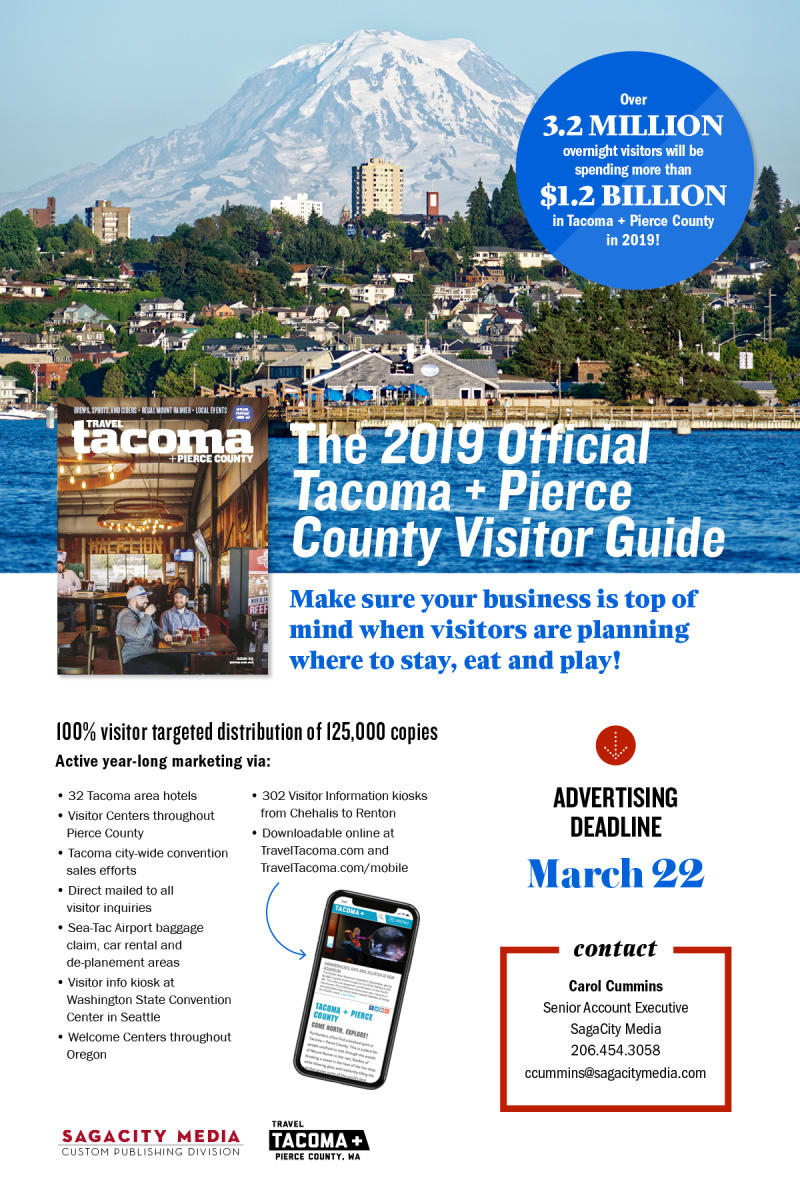 Hotels offer value of consistency in new home-sharing landscape
AirBnB, BeMate, who can keep it straight? With the success of multi-million-dollar AirBnB which plans to go public this year, a race for new supply has led to many OTAs getting involved.
AirBnB tried to combat its greatest weakness---inconsistent experiences, with the AirBnB Plus Program, that aims to vet select locations. But for hotels, this consistency of a clean tidy room and meeting expectations of providing toiletries, and other promised amenities remain hotels' key differentiators.
Hyatt and AccorHotels both had forays into the homestay market through the purchases of Oasis and Onefinestay respectively, and both ended up exiting. The only major hotel brand to have success was Marriott who instead of an acquisition entered into a partnership with Hostmaker to launch a pilot of its Tribute Portfolio Homes platform in London last year.
As of 2016, Pierce County hosted 450 active AirBnB listings. AirBnB guests pay the special hotel/motel tax and tourism promotion area charges if eligible.
Read more on Travel Weekly
New Tacoma Destination Maps Sales
Visitors want maps. It's the most requested thing at Travel Tacoma's Visitor Information Center, and almost any other visitor information center in the world. Destination Maps provides an engaging visitor-focused map for Tacoma that visitors keep with them as they navigate the city. The new map is being put together now, and there are advertising spaces available.
Call 253-301-4401 or email tacomamap@discoverymap.com.
Special Offer from Professional Bull Riders
The world's top 35 bull riders will be at the Tacoma Dome this March for the Tacoma invitational, an annual event that brings in 15,000 spectators. The two-day event takes place March 30 and 31.
Buy your tickets here and get $5 off with the promo code TRAVEL
Washington Tourism Alliance Named Official Statewide Destination Marketing Organization (DMO)

Since the state tourism office was closed in 2011 due to lack of funding, Washington has been the only state in the U.S. without a statewide tourism marketing program. That's now changed. The statewide tourism marketing program was signed into legislation by Governor Jay Inslee last March and marked the first time the 2011 closure that the state had an official marketing arm.
With the new law in place, a Marketing Authority made up of appointed representatives has named the WTA the official Destination Marketing Organization for the state. As the official DMO, the WTA will be responsible for implementing the state's tourism plan.
A model based on successful programs in other states focused on a 2:1 match of private funds to access appropriated state   general  funds. The resulting $15   million fund has two components: $5 million per biennium from a general fund appropriation and $10 million from a private industry match. WTA will create marketing programs that help rural, tourism-dependent communities, promote natural wonders and outdoor recreation, attract international visitors and identify local offerings for visitors.
 Additionally, the WTA will establish a destination development program for rural and underserved tourism communities and create a crisis communications plan and program to assist state communities during times of disaster and spur post-crisis business recovery.