Fourth of July Summer Blast!
After three years without a citywide Independence Day celebration, Metro Parks Tacoma, in partnership with the City of Tacoma, presents Tacoma's 4th of July Summer Blast, a family-friendly day of live music, food, entertainment and crafts vendors, culminating in a fireworks display over Commencement Bay.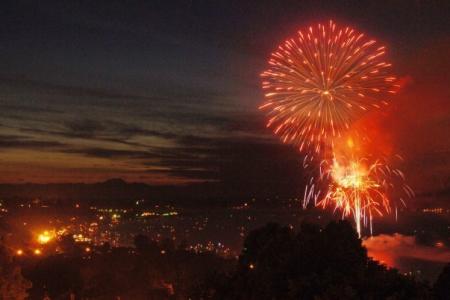 The free celebration will take place beginning at noon on the Ruston Way Waterfront at two locations: Cummings Park and Dune Peninsula at Point Defiance Park. Both locations will host live music, beer gardens, over 200 arts and crafts vendors and food trucks from Tacoma Night Market and JCW and Associates.
All of Ruston Way Waterfront will have views of the fireworks display over Commencement Bay beginning at 10 p.m. Cummings Park will also host a Family Zone with free activities for kids.
The fireworks display will launch from a barge about 3,000 feet offshore from Cummings Park, maximizing prime visibility from most parks along the Ruston Way Waterfront, from Dune Peninsula Park in the north to Jack Hyde Park in the south. The fireworks show is presented by Emerald Queen Casino & Hotel, in partnership with Metro Parks Tacoma and City of Tacoma.
Ruston Way will be closed to vehicle traffic from 7 a.m. to midnight between Alder Way and North 49th Street, while Yacht Club Road will be closed at Grand Loop.
For the most up to date rundown of musical performances, vendors and details, visit TacomaSummerBlast.com.