Glass City
Itinerary Suggested Season: Winter-Spring-Summer-Fall
Day 1: Wake up inspired at Tacoma's glass-art themed hotel, Hotel Murano. Dedicated to Tacoma's glass art culture, you will find beautiful works from international artists at every turn.Tacoma's glass art culture can be tied directly to Tacoma native and world-renowned glass artist, Dale Chihuly.
Begin the day by visiting the Museum of Glass, located on the Thea Foss Waterway with beautiful views of Mount Rainier and the city. You'll have the opportunity to view all of the museum's galleries and sit in the Hot Shop for an exclusive peek at live glassblowing.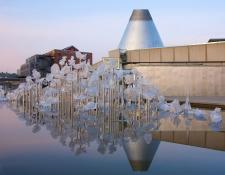 For lunch we suggest dining at The Social Bar + Grill located right outside of the Museum of Glass. Sit outside on the patio to enjoy views of the waterway while you eat.
Following your trip to the Museum of Glass, stroll across the iconic Bridge of Glass and view three permanent exhibits designed by Dale Chihuly. 
Once having crossed the Bridge of Glass browse through Union Station, which served as the former terminal for the Transcontinental Railroad into Tacoma. It currently serves as a United States Courthouse, however the rotunda lobby features an impressive collection of glass artwork by Dale Chihuly free and open to the public. The only requirement to enter Union Station is to show your ID.
On your way back to Hotel Murano stroll through the University of Washington's Tacoma campus to see Chihuly's 1500lbs Chinook Red Chandelier that impressively hangs in the library. 
After some well deserved R&R have dinner at BITE, your on-site restaurant at Hotel Murano, which is just as delicious as it is convenient. Bursting with contemporary art, you'll feel like you never left the museum.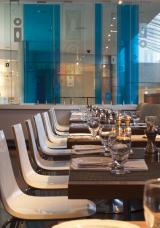 Following dinner travel to different floors of the hotel to spot all the gorgeous art it has to offer. Make sure to stop at The Lobby Bar for a glass of wine to finish off the night.
Day 2: Explore your creative side and try your hand in the hot shop! You'll become a bona fide glass artist in no time at all.
Start the day by visiting the Tacoma Glassblowing Studio where you get to work one-on-one with a local glassblower to create your own unique piece of glass art. Choose from a variety of objects to design and pick your favorite colors to build into your masterpiece. Make sure to visit their shop, where beautiful glass pieces are for purchase.
Once you've completed your masterpieces, make your way to the Tacoma Art Museum. While exploring the art museum you will come across Dale Chihuly's Collection, a permanent exhibit, where you can see Chihuly's work throughout the years. You will find over 100 pieces of Chihuly's work that will captivate your imagination. For lunch you will not have to go far as we will be dining at Elemental Pizza which is only across the street. Here you can dine on wood fired pizza's and artisanal salads. 
After lunch return to Hotel Murano for some relaxation prior to dinner at Indochine, an Asian-infused culinary experience with dramatic ambiance in downtown Tacoma. Take time to visit the shops located around Indochine and don't forget to pick up a Tacoma T-Shirt at Urban Xchange.