Sumner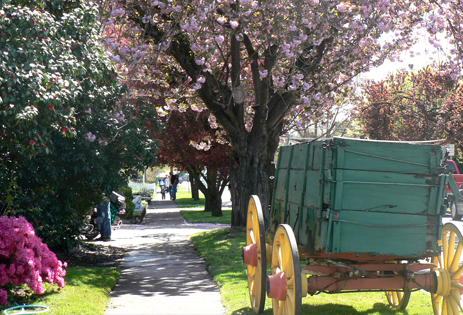 Full of old-fashioned friendliness, Sumner embodies all things Americana. Visit Main Street for shopping or stroll through Heritage Park near the historic downtown core. Celebrated as Rhubarb Pie Capital of the World, sample hearty slices of world-famous rhubarb pie in main street cafés and find unique keepsakes in the specialty and antique shops. 
With the Daffodil Parade in spring, concerts in the gazebo in summer, scarecrows that come to life in fall and a bridge lighting with caroling and fireworks in winter, Sumner serves up every experience with an enthusiastic helping of old-fashioned fun. A commuter station for the Sounder train makes it easy to get to-and-from Sumner.
---
Top Five
Hometown Charm
Rhubarb Pie
Main Street Shopping
Parades + Festivals
Historical Tours
---
Related links
This 8-mile trail follows the White River. Enjoy wildlife and native vegetation. More
Historic Ryan House Museum
Sumner's first mayor, George Ryan, bought and restored the house in 1872.
Puyallup + Sumner dining app
Looking for more great places to eat and drink? Download the Puyallup/Sumner app // More